simplicity in managing website content
CMS
Publishing, uploading files, and updating the content of websites periodically becomes far from the complexities of other content management systems (cms)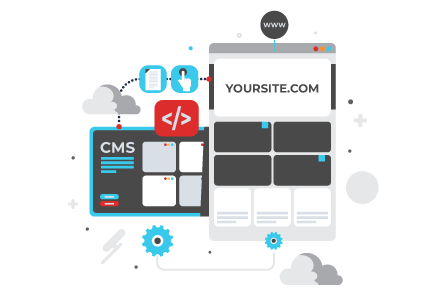 Easly Continuously update the content.
A Content Management System (CMS) is a software tool that allows the creation and management of a website without the need for advanced technical knowledge. The system provides a user interface that helps in creating, modifying, and publishing content easily. The content management system cms also allow the participation of multiple users in the management of the site, who share the work of each of them with a role and authority. Content management systems cms are the unknown soldier behind the vast majority of websites out there today, whether it is a company, government organization, charity, news portal, simple blog, or personal website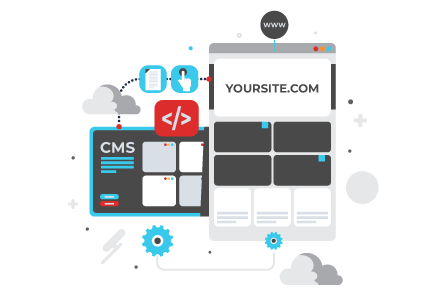 Benfits Content Management System (CMS)
1. Ease of use
2. Strong security
3. Easier blogging and more visits
4. Collaboration and assignment of tasks
Ease of use

The real revolution sparked by CMS was enabling non-programmers to create a website without having to write code. Content management systems cms have a smooth user interface, once you take the time to discover it will be easy to create site content with it. Convenience also includes the ease of accessing, managing, and modifying the site via any device connected to the Internet, without the need to connect to a server, for example.





Strong security

Security is a vital consideration for any website, and it is also the biggest challenge facing any company on its way to digital transformation. Content management systems cms are kept up to date to resist new cyber threats that arise. There is no perfect security system, but the use of content management systems cms and their constant updating ensures strong security for your website.





Easier blogging and more visits

Creating a blog is one of the most important strategies that various businesses adopt to drive website traffic, attract backlinks, and build authority and reliability in a particular industry. However, building it from scratch is difficult, so one of the main advantages of content management systems cms is providing blogging plugins that make it easy to create a blog and start building a blog. Publish and schedule content.





In the same context, content management systems cms provide SEO extensions that help improve the chances of a site ranking on Google and getting more traffic. These extensions offer features such as: customizing page titles, meta descriptions and URLs, alt texts for images and XML maps, and optimizing page load time, which together contribute to improving the site's visibility in Google search results.





Collaboration and assignment of tasks

Content management systems cms provide a great advantage of collaborating efficiently and securely via user permissions. This means that on any given day, a marketer can publish content, an SEO specialist can improve an article, and a developer can add custom codes to one of the templates. Also, everyone gets the permissions he needs. For example, the writer will have all the permissions he needs to write content, but he won't be able to delete an extension or change the site's functionality.

Complete control and simple control of the entire
content
Currently, most businesses need an interface that allows customers to access content that includes services, projects, and business objectives to get an idea of what these businesses are. You urgently need a system that reduces time and speeds up the process of publishing content effectively to reach more customers, introduce your business and have a presence and awareness among all your customers.